Things To Know Before Arriving: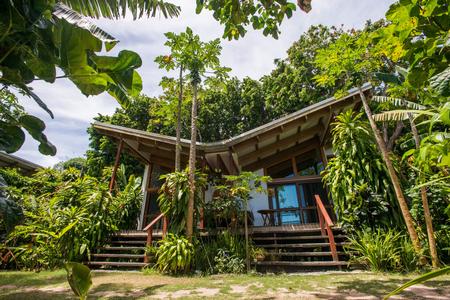 TRAVEL INSURANCE: Highly recommended.
CREDIT CARDS: We accept Visa and Master Cards.
MONEY: We recommend you exchange your money at the resort. We receive daily exchange rates from the bank and don't charge any fees.
HEALTH: No Malaria is present in Fiji. Insect repellent is necessary considering the Resort is located on the beach bordering a lush jungle. Sunscreen: we request you bring "reef friendly" product or else purchase product from resort gift shop. Bring a rashguard or a wetsuit top for extra protection. All of our boats are outfitted with first aid and a phone in case of an emergency.
FIRST AID: Basic supplies for tropical destinations including dressings and antibiotic creams for reef cuts, electrolytes, anti diarrhea medication, antihistermine etc.
CLIMATE: Fiji has a tropical & humid climate. Heavy rainfall can be expected during the wet season (December – April). A year round average of about 30'C (85'F) during the day and 25'C (75'F) at night. During winter (June to Sept) it can sometimes get cool enough for long pants and a long sleeve sweater.
FIJIAN CULTURE & CUSTOMS: Dress appropriately outside the resort. Men should wear a shirt, while women should dress conservatively. A sulu (sarong or wrap around) with a shirt is acceptable for both men and women when visiting a village. Remove footwear when entering a Fijian home or hall. Going to Church on Sunday is an enriching and respectful experience.
Do not show up to the village uninvited.
Remove your hat & sunglasses when entering the village as a sign of respect.
Frequently Asked Questions:
Being all reef breaks are the breaks only worth surfing on the higher tides?
We generally surf the local breaks around the high tide. This can be up to 3 hours before the high and maybe an hour and a half after. If the tide is coming in we usually get a bit of a pulse and the sets seem to get bigger and more consistent. We can surf Shifties on a lower tide as this break has a better gradient to the reef. Pipe, J's and Vunaniu all have a very quick drop off at the back of the reef so the waves don't really get time to stack up. All of a sudden there's a set in front of you.
I noticed from your website that the majority of the breaks, except Frigates, require a wind from the North quadrant, yet the winds seem to regularly blow from the SE. Does that mean the only times to get clean surf (other than in a north wind), is for a hour or so at dawn before the wind gets up.
Shifties, J's and Vunaniu all like wind with some north, or else calm conditions. Pipe and Frigates handle the SE trades. July - November is usually the time of Trades so you might be surfing lefts the majority of the time. We usually get a high pressure system that moves across us once a week. After these pass there can be north winds for a day and then before they get too strong we can get the glassy mornings.
I am currently an intermediate surfer and unfamiliar with reef breaks (used to surfing point breaks/beachies on the Sunny Coast). Would I be out of my depth at your local breaks?
I don't think so. The point breaks can be fast and down the line type waves which is what the reef breaks are like. Maybe they have a bit more power, even when the waves are small and the takeoff can be steep. I think because it's not crowded you can relax and catch more waves feeling comfortable that if you blow it you'll get heaps more chances.
We have surf guide's who will be in the water with you to show you where to take off. Surfing a reef break can be challenging if it's big and heavy, but we wouldn't put our guests out in those conditions if they are not comfortable. It's not always big, in fact I would say the majority of our surf is in the 4-6foot range.
What's the best time of year to come?
If you're looking for the biggest surf, June through August is the go. Surfers looking for the cleanest surf possible – and the least crowded – the wet season from January through April is excellent. Many people prefer to shoot for those shoulder months of March, April, May and September, October, November, hoping to get those glassy conditions with early or late south west swells.
Is it suitable to bring our children? We have a 3month old and 3 year old.
The resort is 'child friendly'. The rooms are screened so there's no problem with mosquitoes. We have cots and single beds. A king size bed, cot and single bed fit comfortably into each room. We also have a pool and other activities so the children have lots to do. Babysitters can also easily be arranged.
Do you have a car seat for our child?
Yes. We also have cots, a high chair and baby bath at the Resort.
Are Babysitters available and how much?
Yes. FJ$10/hr.
My partner doesn't surf. Is there anything for them to do?
Yes…there's lots to do. If she is tired of relaxing by the pool, perhaps she would like to go for a kayak (with or without our guide), use the stand up paddle boards, the pedal boat, guided plantation walk, visit to the waterfall or one of many other activities either around or outside the resort. But I'd say she would be happier with an hour, in room, massage!
What's included in the price?
All your meals – cooked breakfast, lunch & 3 course dinner, accommodation and trips to local surf breaks and snorkelling, all day tea & coffee from the breakfast bar.
What's not included?
Transfers, diving, game fishing charters, bar drinks and snacks, special coffees (espresso, lattes and cappuccinos) organized day trips, laundry, massages, romantic sunset cruises, massages and tips.